How to Get Involved
We-Consent believes in the following core principles and we hope you will join us:
We believe that everyone in society will benefit from a good understanding and positive practice of consent.
We believe everyone has a part to play in upholding the values and principles of consent in all situations and all relationships.
We believe in the right of every person – child and adult – to universal, age-appropriate education on consent and healthy relationships.
We believe that consent is a demonstration of respect for the equality of other people.
Join the We-Consent Campaign
Much like consent, this campaign is for everyone. To change our culture around consent, we all need to understand it, talk about it and practice it. Whether you're looking to upskill at one of our workshops, follow our journey on social media, or even have a chat with your Granny, there are loads of ways you can get involved.
Volunteering with We-Consent
Volunteering with We-Consent is a great way to join our national movement to make our culture around consent & relationships healthier, happier and safer for everyone.
We have lots of different ways for you to join us in the We-Consent movement. Whether you have an hour, a month, or a day a week – we'll find the volunteering opportunity to suit you. Here are a few of the volunteering options we have
Outreach & materials distribution (Drop off of badges & materials to businesses all over the country)
Online shop support (Packing & posting orders for our online shop)
Event support (Help us out before & on the night at We-Consent events)
Admin support (Filing, writing, researching & all things admin which keeps We-Consent going)
Fundraise for We-Consent (Bring your best ideas & roll up your sleeves for fundraising events & activities)
If you are interested in volunteering with us in any capacity, please fill in the form below and we will get in touch.
We-Consent Ambassador Programme
We are looking for passionate changemakers to join us as We-Consent Ambassadors. The programme includes training that will equip and empower participants with all the tools and skills they need to safely become consent conversation starters. The bespoke training spans over 6 modules run online and focuses on the basics of consent, trauma, safely handling disclosures and other activism communication skills.
Following graduation, the We-Consent Ambassador team will stay in touch with the campaign through quarterly check ins, and further training in other key areas of activism and consent. As time goes on, opportunities for our We-Consent Ambassador team will expand.
Find out more about our We-Consent Ambassador Programme below:
If you are interested in being a consent leader and ambassador in your community or you would like to learn more about how to be an activist, please fill in the form below.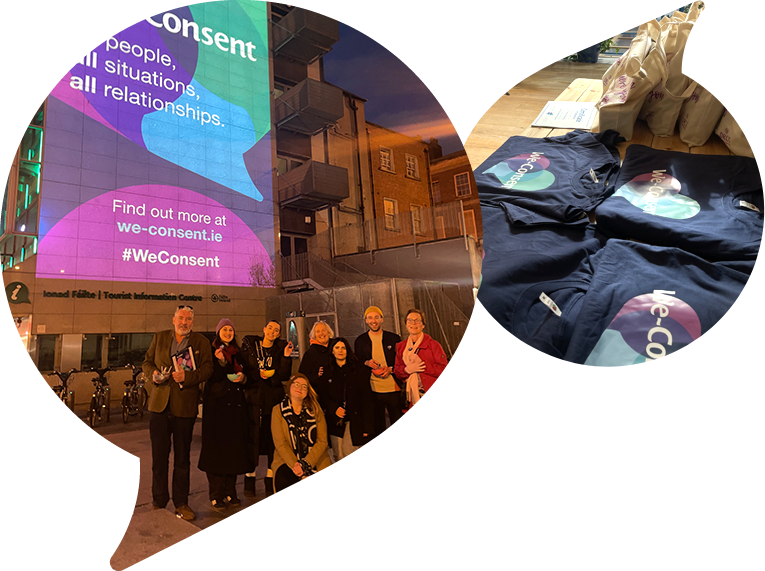 A few ideas for taking part:
Come to a We-Consent Conversation Workshop
In our new national movement to make our culture around consent & relationships healthier, happier and safer for everyone, we are running a series of workshops with different groups across Ireland to ask them: How can we talk about sex and relationships differently? What is consent and how does it influence our lives? What skills do we need to have these conversations, with our families, with our partners and with ourselves?
If you would like to learn a little more about consent, respect, sex, power dynamics and leave feeling better equipped to talk about consent with friends, partners, hook ups, family or anyone at all…
or if you want to know how to get involved with We-Consent and learn how to be an activist in this area, then our workshops are for you.
We-Consent Conversation Workshops are focused on positive consent, they are definitely not a space for traumatic or intense discussion and we do not encourage personal disclosure. However, should anything come up, we will be there to signpost you to our services. Our previous workshops have been very warm, open and chatty so we want to assure you that it will be a positive, enjoyable and welcoming environment.
The workshops are made up activities and group exercises that have the intention of getting us towards an interesting conversation or winding us down after a conversation. There will be discussions. You will be invited to speak at times and join in the conversation. Always and at any stage, if you're not comfortable joining in, you can sit out, pass on a question or ask for more information. We will always celebrate you exercising your consent skill muscles.
To book a workshop for your company, organisation or a group of 15 or more, or if you'd like to speak about tailoring one to your needs, please contact consent@rcc.ie
Toolkits
To support you in your journey to learn more about consent, we have developed a series of toolkits. These toolkits are helpful guides to support you to feel knowledgeable, empowered and comfortable with talking about consent and the skills involved in doing consent. They contain straightforward tips, factual advice and practical skills. Check out our toolkits below:
For a helpful guide to having safe conversations with people in your life about consent you can take a look at our Having a Chat Toolkit. It includes sections about spotting myths, critically consuming media and active listening.
Download the Having a Chat Booklet, Self Reflection Exercise or False Accusation Factsheet (PDF)
Information on how you can support people in your life if they disclose sexual violence to you is available in our Supporting Others Toolkit. It includes helpful suggestions on what to do and not do and where you can signpost for professional help
Download the Supporting Others Summary or the full Supporting Others Booklet (PDF)
If you're curious about what good consent looks like and want to learn more about the skills involved in doing consent, you can check out our Consent Skills toolkit. Here you can learn about communicating consent and receiving that communication well.
Download the Consent Skills Summary or the full Consent Skills Booklet (PDF)
Donate
We are grateful for any donation, no matter the amount.
We-Consent is a Dublin Rape Crisis Centre project. Your donation will help us work towards an Ireland that is free of sexual violence and to support victims and survivors. 
Text DRCC to 50300 to donate €4. 
Texts cost €4.00. DRCC will receive a minimum of €3.60.
(Service Provider: LIKECHARITY. Helpline: 01 481 9311) 
If you would like to talk to us about donating, please contact the DRCC Fundraising Team on 01 661 4911 or fundraising@rcc.ie. 
We-Consent aims to open the conversation about sex, relationships and consent. We are conscious that this may spark a range of emotions and a need for support and information.
People may realise that their sexual encounter or sex within a long-term relationship is non-consensual, parents may want to guide their children through the conversation on consent, young people may want to ensure they are looking after themselves and others. Or it might just be that you are interested in learning more about consent and playing an active part in building a culture where sex and sexual activities are safe, healthy and happy.
For anyone affected by sexual violence